I love using board games to teach essential skills like turn taking, communication, requesting, and teamwork. Going into my first year of teaching, I knew I needed board games like Zingo! and Guess Who?, but my district couldn't provide these items. I couldn't afford to buy the games either, so I turned to DonorsChoose to help me get the supplies my students needed to develop their social and communication skills.
DonorsChoose is a non-profit organization dedicated to helping public school teachers get the resources they need.
You can request anything from pencils to art supplies to iPads. Over the past year, I have had one DonorsChoose project funded each month for the resources that my students need. Here are some tips and tricks for getting your DonorsChoose projects funded.
Quantify the impact of your project.
Imagine yourself as the donor. What would make you want to donate to your project? Quantify the impact of your project and be as specific as possible. For example, if your project is requesting iPads, state the explicit purpose of the iPads.
My students need three iPads to use during our English Language Arts centers. Students will use the iPads to access blended learning programs such as iReady Reading and Lexia Core 5, an individualized reading program that has a proven record of 65% of high-risk students gaining two or more grade levels of reading skills.
When you quantify the impact of your project, donors are more likely to give because they can see the impact their donation will have, they trust that you will follow through with your project goals, and they know that the products you're requesting are essential to the success of your students.
Break down large projects into little projects.
This advice is from one of my colleagues who has had 40 DonorsChoose projects funded and is a DonorsChoose ambassador. If you have a large need, break it up into smaller, more specific needs.
For example, if you want storage options for your classroom, posting a lot of smaller projects increases your chances of getting it funded. Break up the storage options into library storage to promote student responsibility (all of the book bins!), independent center storage to increase student productivity in an organized space, and technology charging storage for all of those iPads you just got.
DonorsChoose only allows you to post projects that you have enough points for, so be sure to stay within the limits of your points. I like to keep my projects around $400 and when I do this, I almost always get it funded by a generous, anonymous donor when there is $75-$100 left to fund.
Donors like to know that they're contributing to a project that will be funded and executed. Get those donations by making your projects small, specific and cost-effective.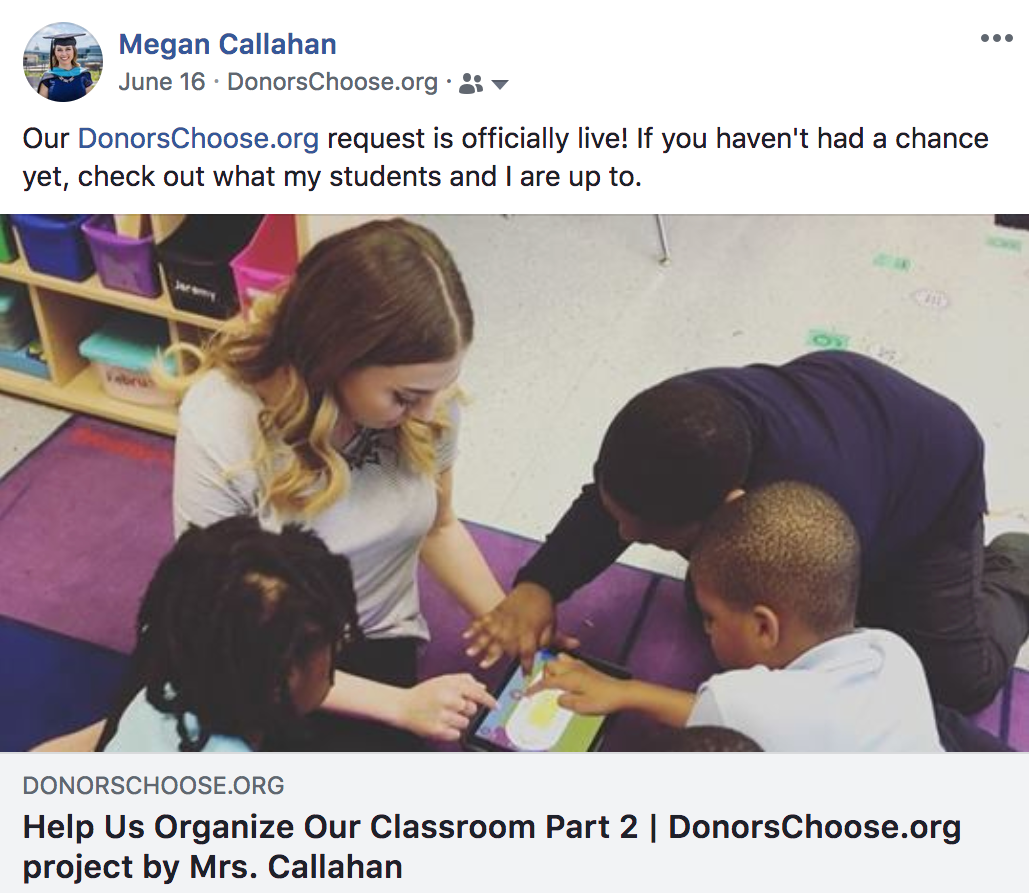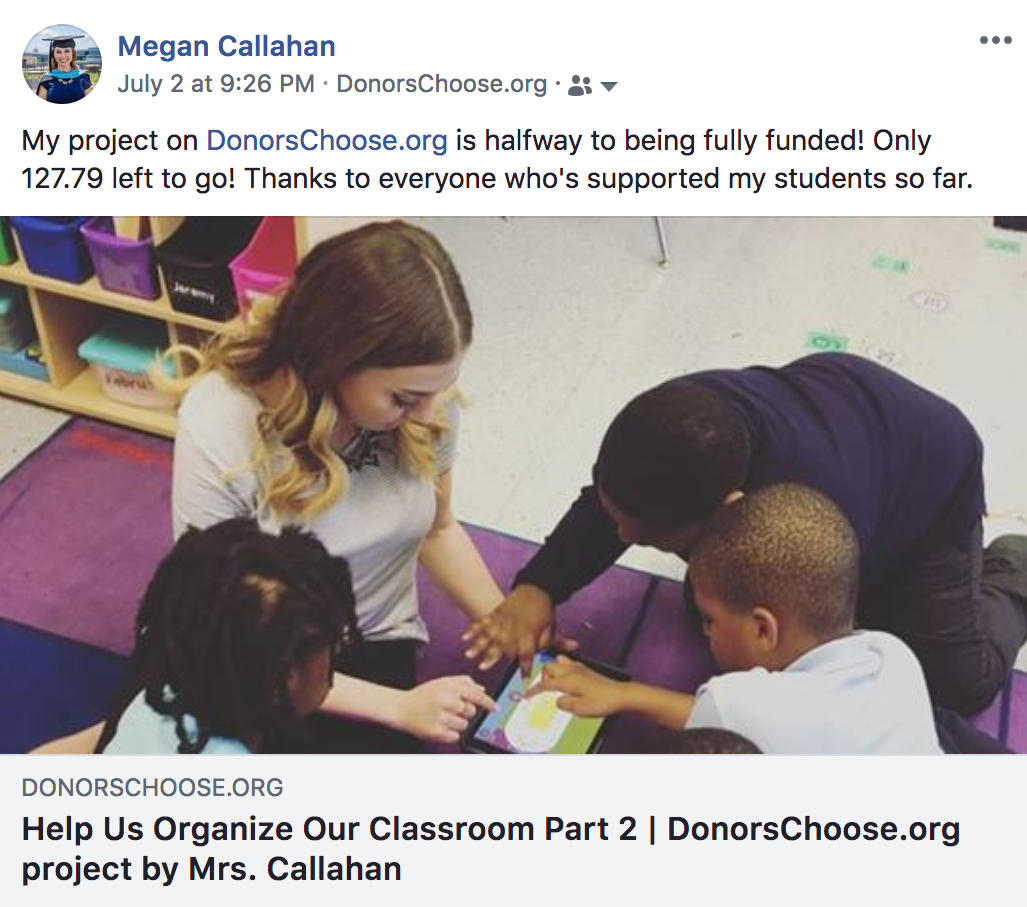 Post about your project on Facebook.
DonorsChoose has an automatic post-to-Facebook feature, and it's your best friend when you have a project. It posts updates when your project goes live, who donates, and how much money is left to be funded. Turn on this feature and all of your friends will consistently see your project and how it will benefit your students, increasing the likelihood of being funded.
I've found that this feature is most helpful in reaching out to potential donors who I don't regularly talk to — for example, an old friend's mom has supported multiple projects.
In addition to the automatic post feature, periodically post about your excitement and anticipation for your project on Facebook! Share personal experiences about your students' need for the supplies and how they will use them. This will draw people into your project.
Look for match offers.
The Clorox Company helped fund my first DonorsChoose project by matching every donation to projects focused on the health, well-being, and safety. Match offers help increase the likelihood of your project being funded and motivate donors because their money goes double the distance!
DonorsChoose works closely with partners all the time, like Dick's Sporting Goods and the Bill and Melinda Gates Foundation, to double donations to your projects. The list is constantly being updated and varies based on the state in which you live and the available partnerships.
Check the list every other week so you can stay on top of available match offers that will help get your projects funded.
Send out awesome thank you notes, pictures, and impact letters.
You get repeat donors based on the quality of your thank you notes, pictures, and impact letters. DonorsChoose requires that you submit these things in order to receive points for future projects. When your notes and pictures are high-quality, your donors are more likely to remember you and want to support your students again.
When making thank you notes:
Make sure the notes are from your students in their words, not yours. Work with your students to help them express what the supplies mean to them and how they like to use them.

If your students have difficulties with handwriting, consider typing the notes, using stickers or stamps, or using adapted pieces like the ones found here.

Include artwork or student drawings that show your students using items from your project! Donors love seeing student artwork and that your students understand that a donor gave them those materials.

Vary your notes – don't use the same cards or medium (like markers) again and again.
When taking photos:
Ensure that the students in your photos have the required DonorsChoose photo release permission slip.

Make sure they are high-quality and include the resources that you received from your project.

Show how happy your students are with the materials – from the unboxing to using the resources.